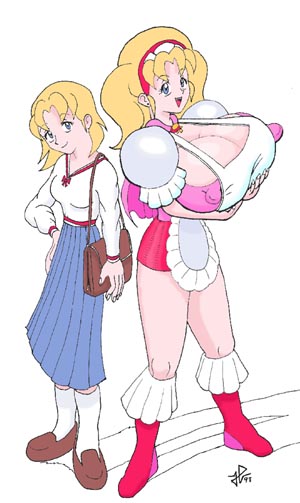 Donate to The Magnificent Milkmaid!
All these donations are split 50/50 between the artist and WLP.
MILKMAID'S FEBRUARY GOAL: $50
FEBRUARY DONATIONS: $0
Donate $5 to Milkmaid!
Donate $10 to Milkmaid!
Donate $20 to Milkmaid!
Donate $50 to Milkmaid!

---
Buy Milkmaid stuff at the Superboobs Online store!

---
WLP's Livejournal Community
Kris@WLP's Livejournal
---
July 13, 2011 - And that concludes this story! Milkmaid's going on hiatus for a while- a planned one this time- but we hope to be back soon!

March 2, 2011 - Whoops! We missed the entire month of February... Mace had other projects, equipment glitches, a stressful vacation, and a long bout with severe migraines, all of which combined to sideline him most of the month. Very sorry- we're going to try to get things back on track!

January 1, 2011 - And we have our new artist! Mace Paladino is taking up the pen to complete the current Milkmaid story- just in time for the debut of Superboobs Online, our new adult comics website! He's got a new 20-page story available for purchase and download there- go check it out!

July 21, 2010 - EGAD! AN UPDATE! We're still looking at artists for the next Milkmaid story, but time's running out! If you're interested, email us and let us know!
---