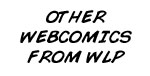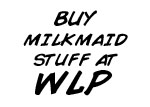 Do not link to this page. Please link to http://www.themagnificentmilkmaid.com/ .

---
---
All images © 1998-2006 their respective creators. They are provided for the promotion of the Magnificent Milkmaid and other White Lightning Productions publications. Do not alter or distribute these images.
---
Milkmaid Production Sketches
Transformation Sequences
Other, Unrelated Images
---


Support this webcomic- order stuff from WLP!

Today's Comic | Archives | WikiWLP - Milkmaid | Gallery | Fan Art | WLP Message Board
Since August 28, 2006

This page last updated August 28, 2006.