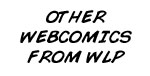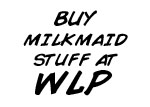 Do not link to this page. Please link to http://www.themagnificentmilkmaid.com/ .

---
---
The Magnificent Milkmaid Fan Artwork
All images © 1998-2006 their respective creators. They are provided for the promotion of the Magnificent Milkmaid and other White Lightning Productions publications. Do not alter or distribute these images.
---
Images by PlumpDragon

Check out his website!
Images by Crazy Cow Productions
---
Images by Larry Mann

Check out his website!
---
Images by Eromancer
Check out his website!
---
Images by Josh Lesnick

Check out his website!
---
Images by The Brothers Grinn

Check out their web comics!
---
Images by Bruce J. Eng
Check out his website!
---
Miscellaneous Gifts
Thanks to the artists who sent art!!
If you'd like to draw your own Milkmaid pics, here are the rules:
Don't sell the pic. Keep the pic out of any pay sites. If you make money off the Milkmaid characters, we will be very annoyed.
There are some subjects we don't want pictures of, or Milkmaid associated with, if we can help it. No scat, no pedophilia, no blood.
If you do a Milkmaid pic, we'd like to post it here. Once it's done, email us BEFORE sending the pic- or better yet, if you have your own web site, put a link to the image in our Message Boards.
Be sure to add the credit 'Milkmaid ™ White Lightning Productions' if you display the pic on your own web site.
---


Support this webcomic- order stuff from WLP!

Today's Comic | Archives | WikiWLP - Milkmaid | Gallery | Fan Art | WLP Message Board
Since August 28, 2006

This page last updated November 23, 2008.